Fluororesin (PTFE) Molding Device
Fluoropolymer properties are exceptional for applications that require heat resistance, chemical resistance, flame retardancy, slipperiness, non-stick qualities, electrical insulation and weatherability. TABATA has long been recognized as a leading manufacturer of precision PTFE processing equipment. We have earned the respect of our industry, consistently providing optimal design solutions for each customer, with precision, repeatability and ease of maintenance in all of our systems.
There are many types of fluoropolymers, and the processing methods are quite different between the melt type and the non-melt type. PTFE is the highest-grade non-melting fluoropolymer. There are several types of PTFE, and the processing methods differ depending on the products. TABATA developed the first PTFE paste extruder in 1955. Since then, in response to new product applications and customer demands, we have delivered a number of PTFE molding devices with superior stability, durability, and operability.
Types of PTFE and methods of forming
| Resin | Molding process |
| --- | --- |
| Fine powder(FP) | Paste extrusion molding |
| Molding powder(MP) | Ram extrusion |
| Dispersion type(D) | Impregnated molding Coating |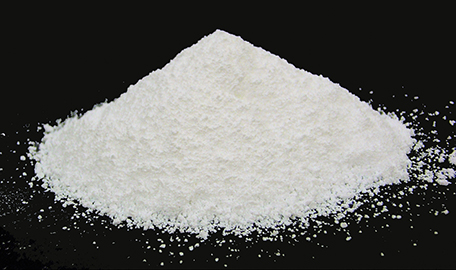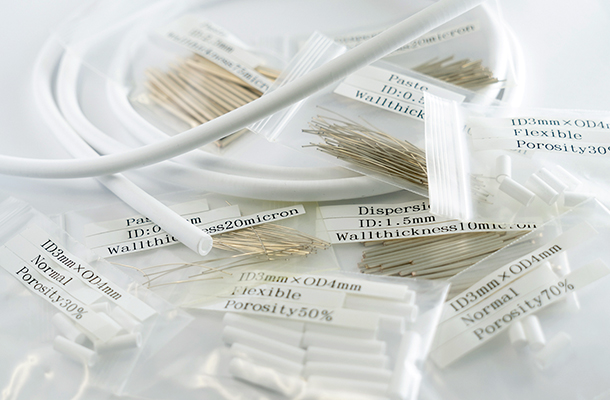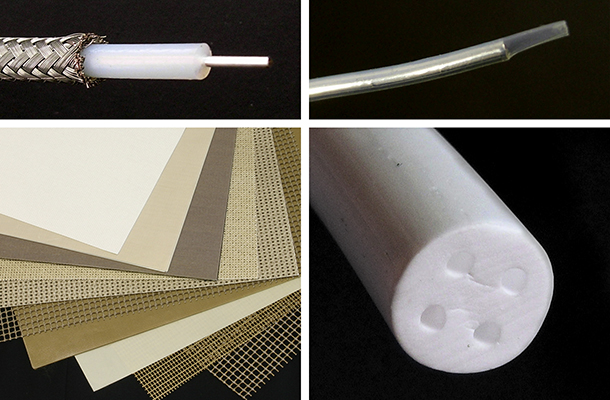 Among fluoropolymers, PTFE molded products have superior performance, and are widely used in industry because of their shapes such as tubes, electric wires, and sheets.
PTFE Fine Powder: Equipment for Paste Extrusion
PTFE fine powder is blended with a lubricant, pre-formed into a billet, extruded to size and shape, and dried and sintered in an engineered oven system.
PTFE molded products such as tubes, wire coatings, and sheets by paste extruder have high heat resistance, chemical resistance, flame resistance, corrosion resistance, slipperiness, and electrical characteristics, and are widely used in industries such as automotive, electric products, piping for chemical and pharmaceutical delivering, and medical fields.
Among them, "porous membrane materials" used in various filters and co-axial cables in automotive O₂sensor and communication technology are increasing as new fields in recent years. Thin-walled tubes used in liners of catheters are also being manufactured as medical-related products.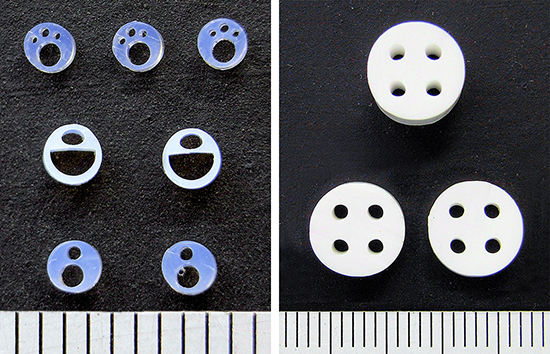 Equipment
・Wire coating
・Tube extrusion
・Sheet extrusion
Main applications
Coaxial cables and wires, O₂sensor cables for automotive, PTFE liner for medical devices, Industrial tubing, ePTFE tubing, ePTFE electric wires, etc.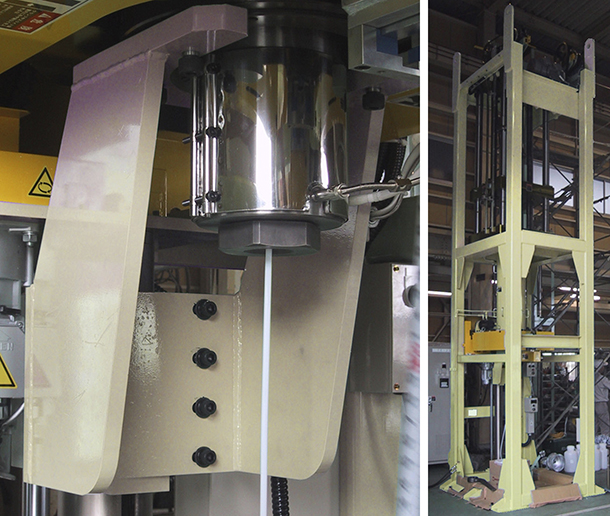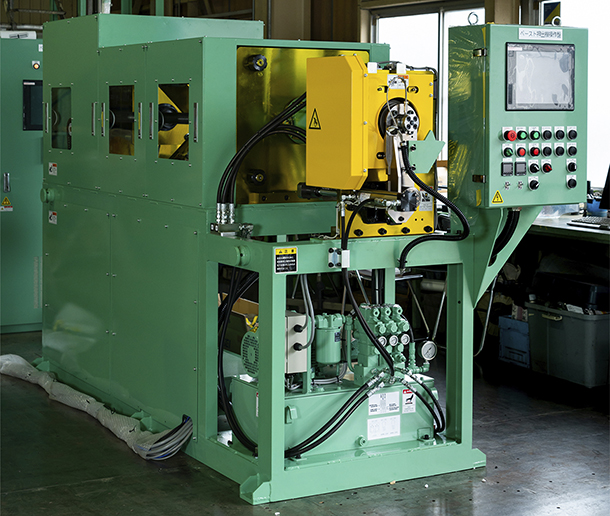 Basic process
1. PTFE fine powder and lubricant are blended in mixer
2. Preforming in hollow cylindrical or pillar shape with a pre-former
3. Extrude at room temperature and high pressure by using a paste extruder
4. The molded articles are dried in an oven furnace → heated at sintering temperature (continuous or separate process)
Schematic diagram of wire coating molding equipment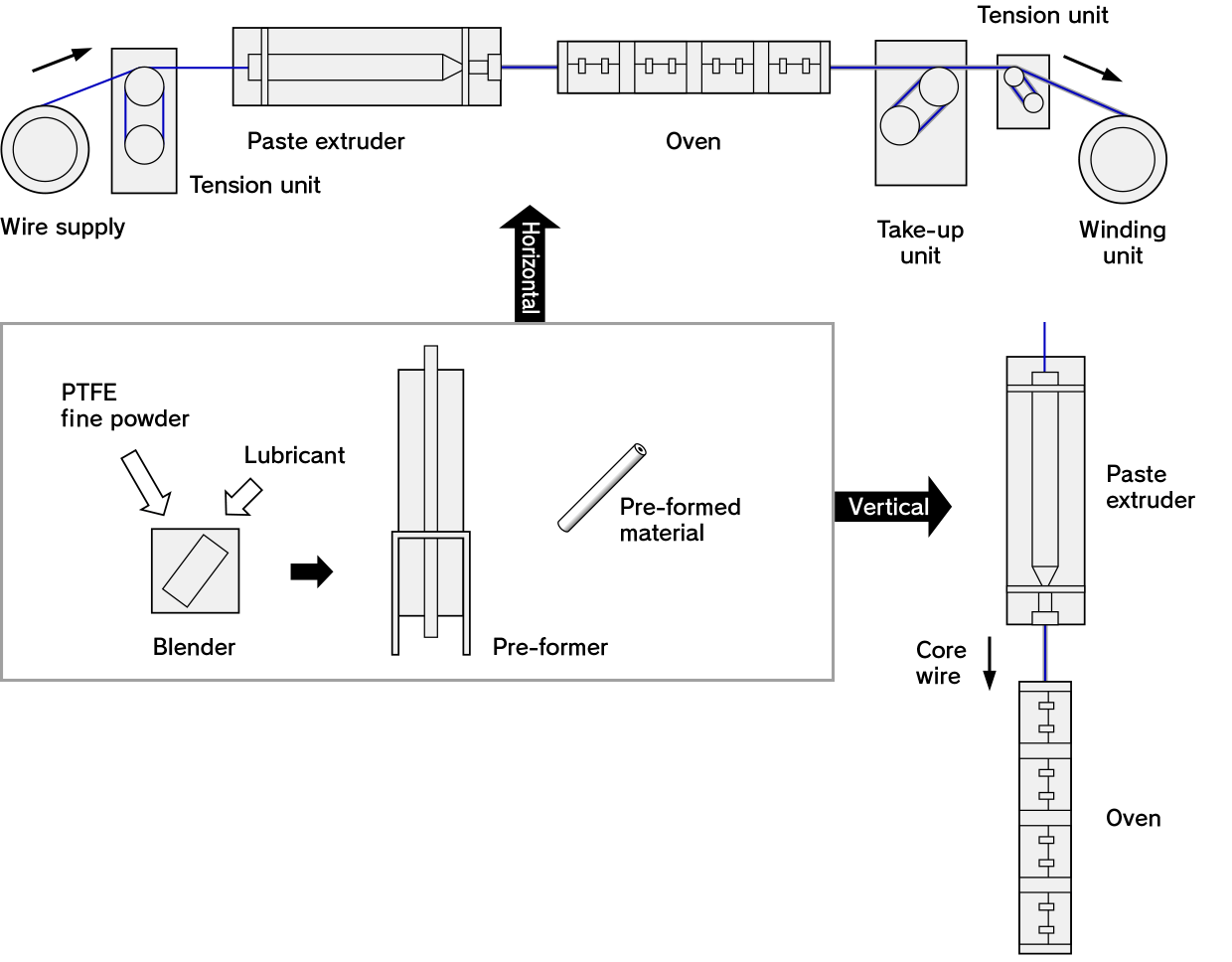 When the core wire wound on the wire transmitter shown in the figure above is extruded by passing through the extruder in the haul-off machine on the right side, the resin is coated in the die at the tip of the extruder. The resin is then dried and sintered in an oven furnace, and then wound up with a winder.
Electric drive type PTFE paste extruder
Typically, paste extrusion produces a thin, minimum approx. 50 microns of wall thickness, but TABATA Industrial Machinery makes this even thinner and less than 30 microns. This ultra-thin coated wire is available for catheter liners and other applications.
TABATA Industrial Machinery became the first company in the world to adopt an electric driven PTFE paste extruder. Electric motor drive and precision drive mechanism enable extrusion molding at stable speed.
Equipment related to Paste Extruder
Mixing machine
Plastic bottles filled with PTFE fine powder and lubricant are rotated in two axial and circumferential directions for uniform mixing. We are now able to minimize of having lumps as well as not converting resin into fibers.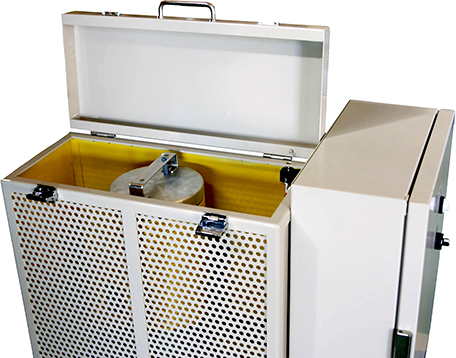 Pre-former
In order to fill the extruder with resins, it is necessary to preform PTFE fine powder. The Pre-former compresses and pressurizes powder mixed with PTFE fine powder and lubricant into hollow cylindrical or pillar shapes at predetermined pressures.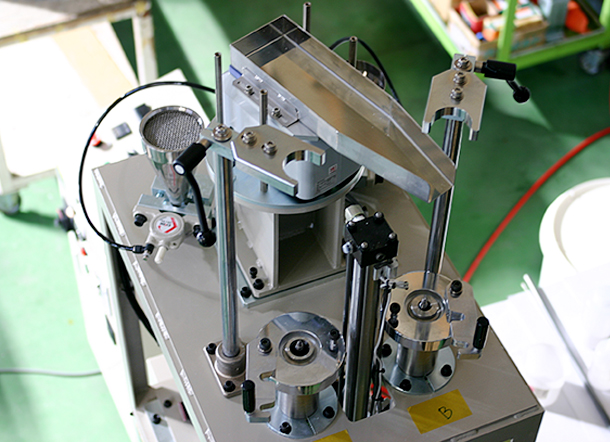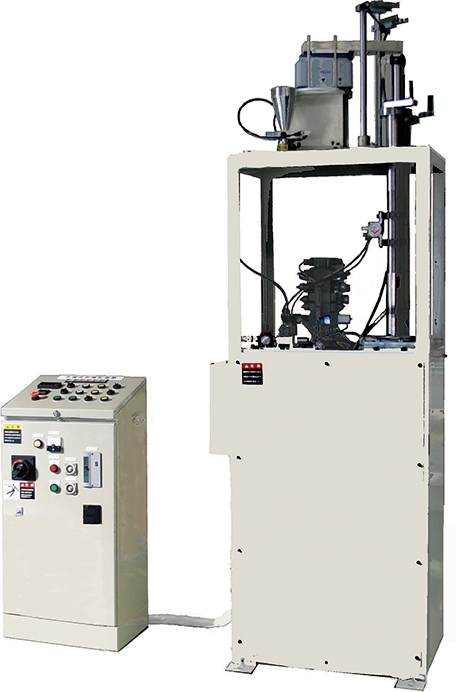 Drying capstan
Machines often incorporated into wire coating equipment. It is primarily intended to dry lubricant.

Drying and sintering oven
Molded products extruded at room temperature are soft because they contain lubricant. For this reason, after extrusion, the lubricant is dried and the resin is continuously heated to the gelation temperature and fixed. In vertical and horizontal oven furnaces, the heating temperature can be set step by step from 100℃ to 500℃.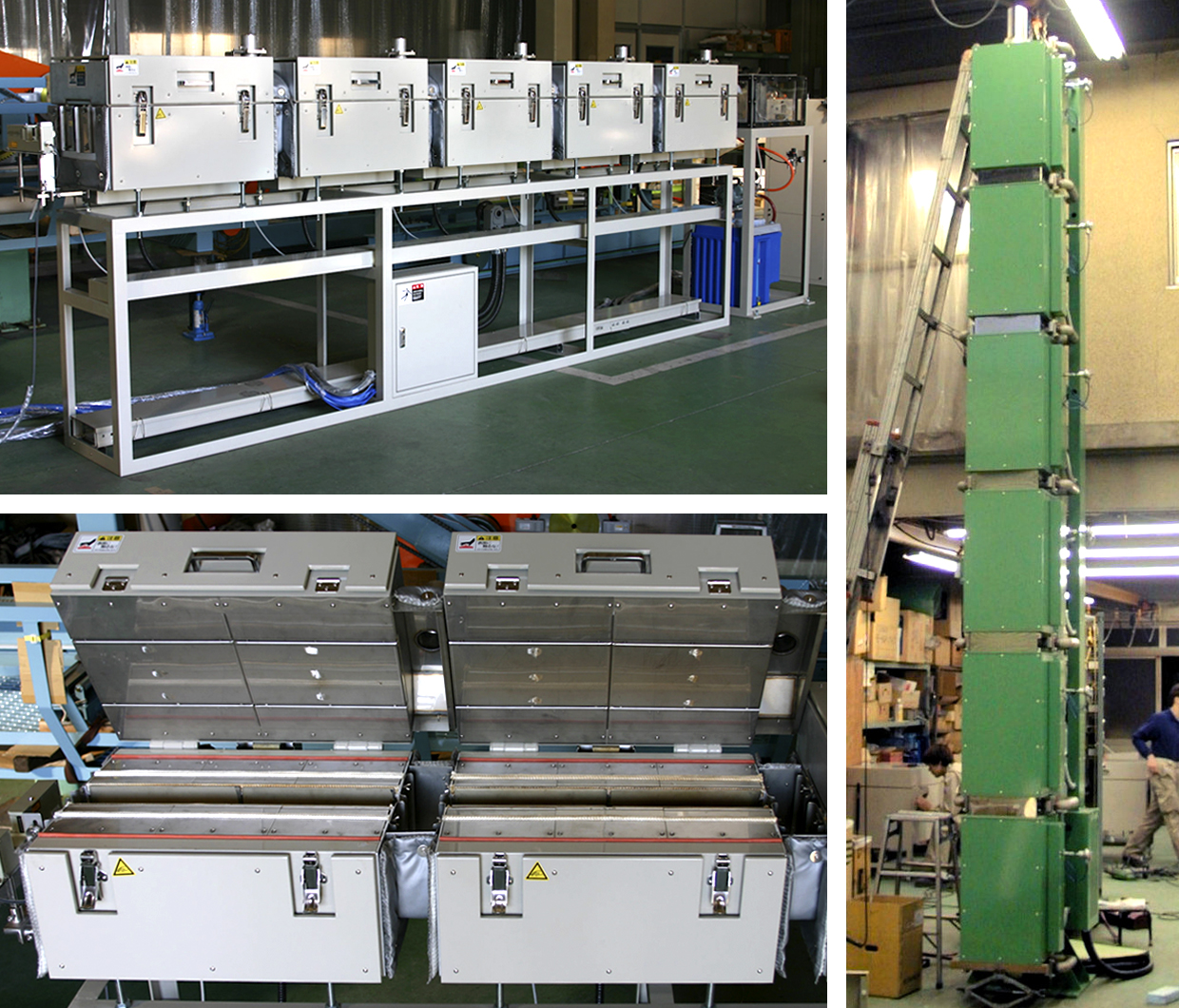 Special purpose machinery
There is a molding method in which a sheet shape or a round bar shape is extruded by a paste extruder and then rolled by a calendar roll, and further, a combination of vertical and horizontal stretching devices is used to make porous films.
PTFE Molding Powder: Ram Extrusion Equipment
PTFE molding powder is compacted while heating and compression molded into a prescribed shape. Multiple pieces can be taken depending on the product shape.
Equipment
・PTFE Rod extrusion Equipment
・PTFE Pipe extrusion Equipment
・PTFE Profile extrusion Equipment
Main applications
PTFE rod, PTFE pipe, etc.
Basic process
1. Feed pellet-like, flake-like and powder-like raw materials into weighing system
2. Intermittent supply in molding dies and cylinders
3. Compression pressurization with ram (push rod) for each raw material supply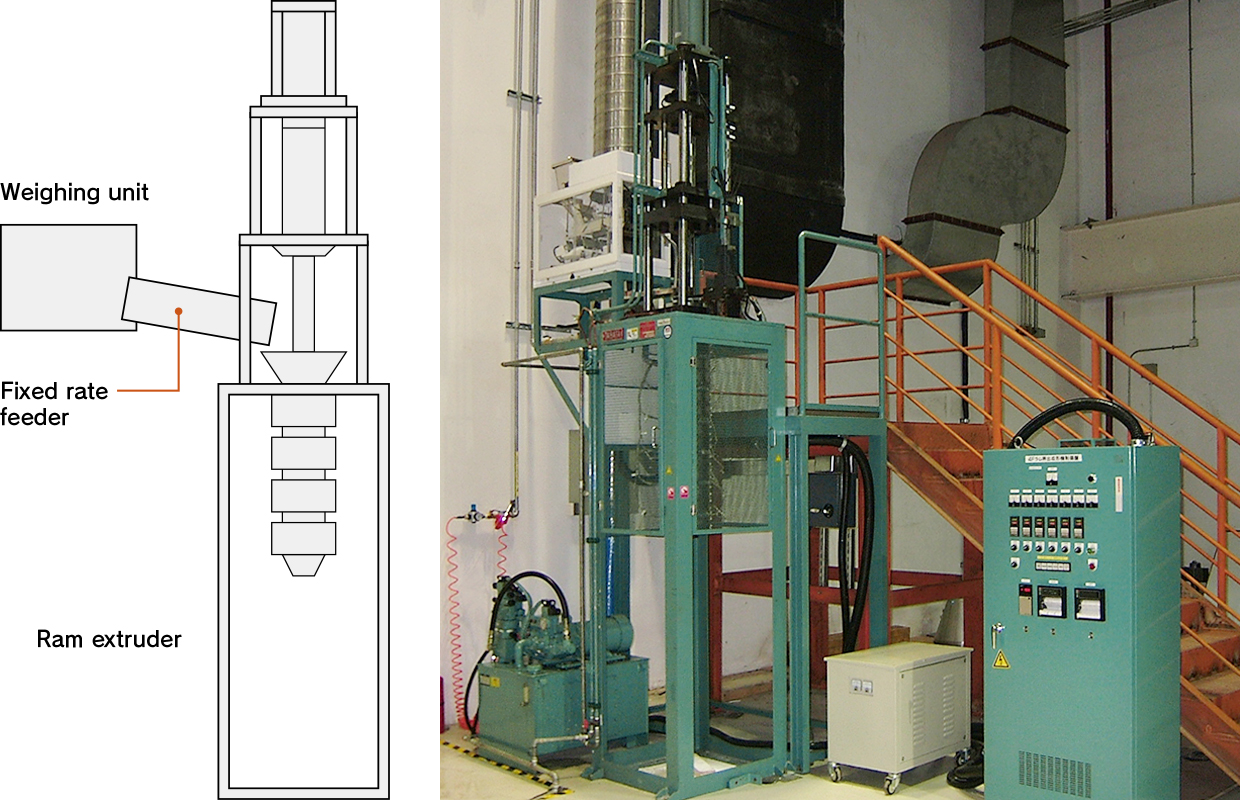 PTFE Dispersion: Dip Coating Equipment
PTFE dispersion coating, drying, and sintering.
Equipment
・Coated core wire
・Coated glass cloth
Main applications
Thin wall catheter liners, ultra-thin wall wire coating, architectural fabric, processing belts, printed circuit board materials, etc.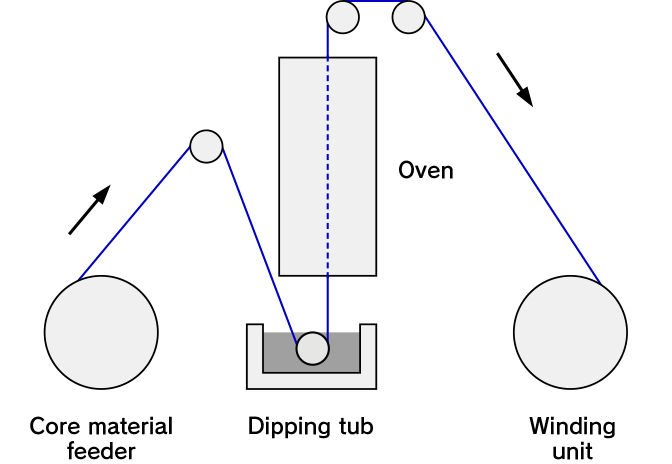 Basic process
1. Extremely thin resin film is produced by passing core wire and glass cloth through a dipping pod filled with PTFE dispersion liquid.
2. Drying and sintering by heating in an oven furnace
Wire coating equipment
It is difficult to coat less than 10 microns of PTFE on wire by paste extruder. This equipment is suitable for manufacturing components for medical applications.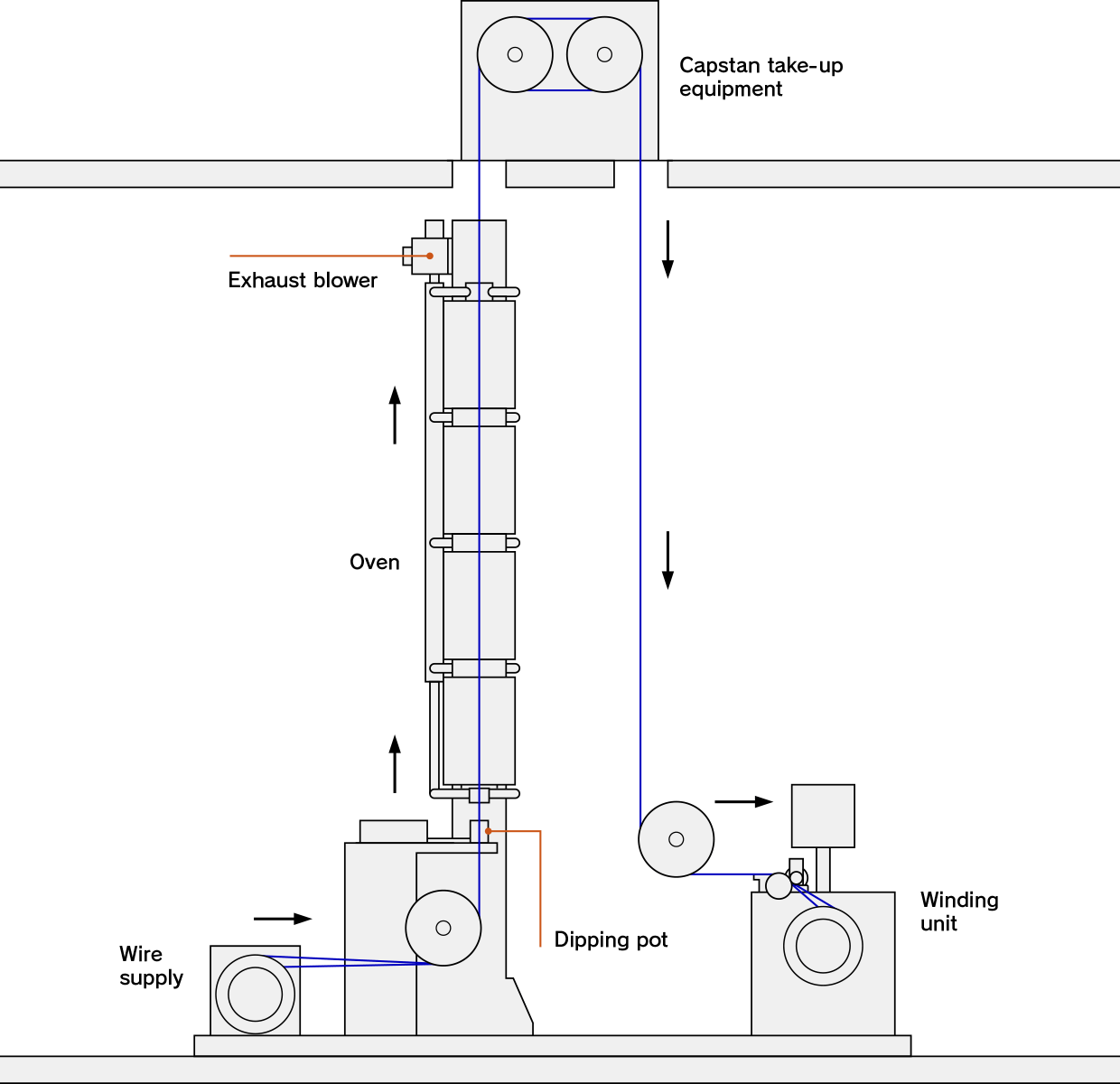 Glass cloth coating equipment
By impregnating a glass cloth with mechanical strength and drying and sintering it, our manufacturing equipment produces special products with many features, including high slip resistance, heat resistance, weather resistance, electrical characteristics, and high frequency characteristics. They are used in a variety of fields, including building roofing materials, outdoor tent curtains, conveyor belts, and printed circuit board insulation materials.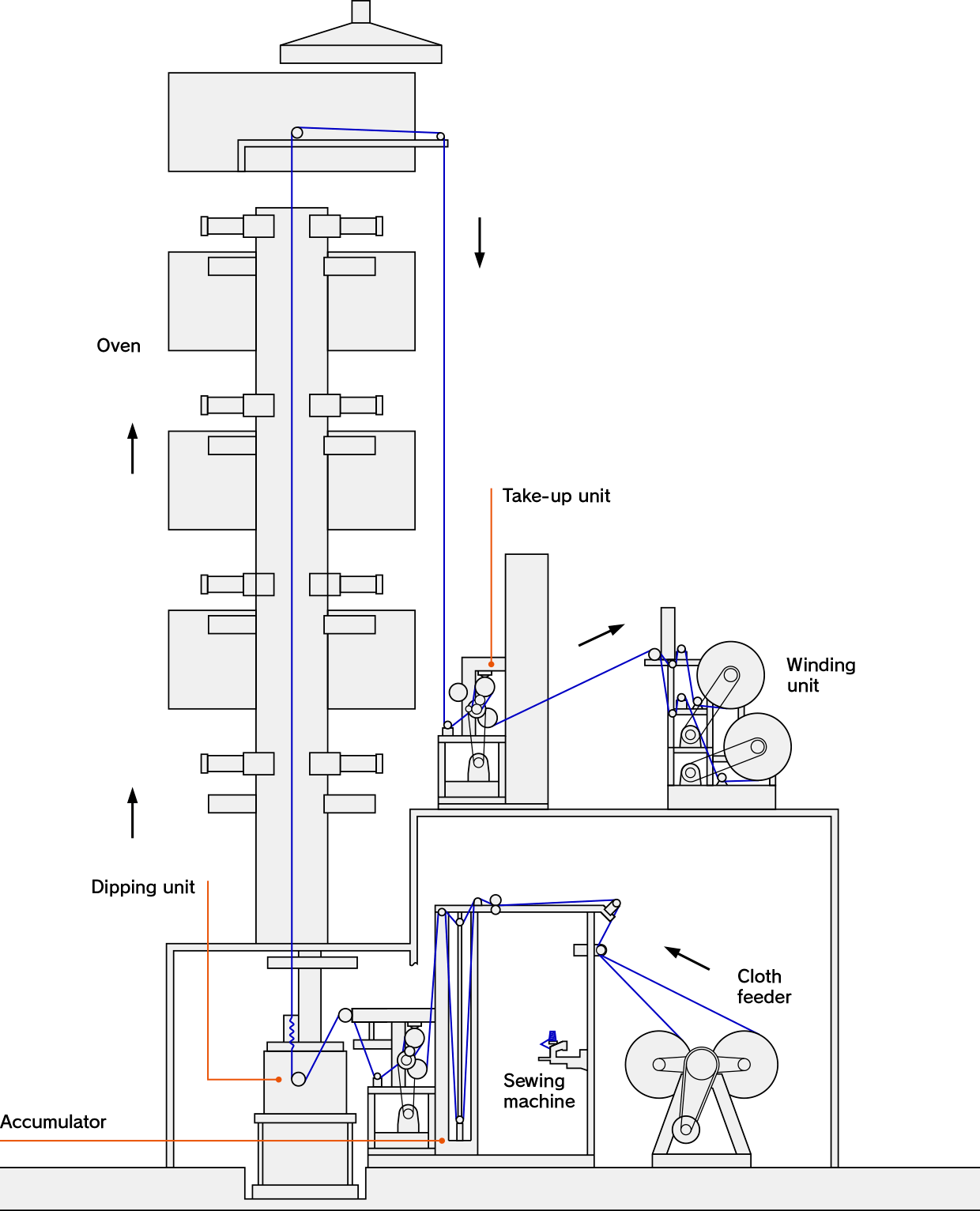 PTFE demonstration machine
PTFE Paste Extruder Specification
| Item | Unit | Specification |
| --- | --- | --- |
| Model | - | Vertical upward extrusion (Electric Drive Type) |
| Cylinder | mm | 50 |
| Mandrel | mm | 16 |
| Strokes( Effective ) | mm | 400 |
| Ram Drive system | - | Screw Jack + Motor |
| Ram speed (Max.) | mm/min | 50 |
| Extrusion pressure (Max.) | MPa | 100 |
| Heater | - | Two points(For Cylinder、For Head) |
PTFE Preformer Specification
| Item | Unit | Specification |
| --- | --- | --- |
| Model | - | Hydraulic overhead removal |
| Cylinder | mm | 50 |
| Mandrel | mm | 16 |
| Compression | - | Hydraulic cylinder direct pressure type |
| Forming pressure (Max.) | MPa | 5 |