Small Exhaust Gas Treatment System
A safe and compact electrothermal exhaust gas treatment system supports local exhaust. We have "Catalytic combustion small exhaust gas treatment equipment: DEOCAT" which can keep running cost low, and "Direct combustion small exhaust gas treatment equipment" which is strong against fluctuation of concentration and flow rate.
Catalytic Combustion Small Exhaust Gas Treatment System (DEOCAT)
"DEOCAT" detoxifies volatile organic gas by using low temperature combustion (approx. 200-350℃) using an oxidation catalyst, reducing equipment size and operating costs.
Features
・Safe and compact design using electric heating type, which is suitable for local exhaust
・Oxidation catalyst adopts precious metal honeycomb catalyst with high efficiency, low pressure loss and high durability.
・Low-temperature combustion + plate-type heat exchanger reduces running costs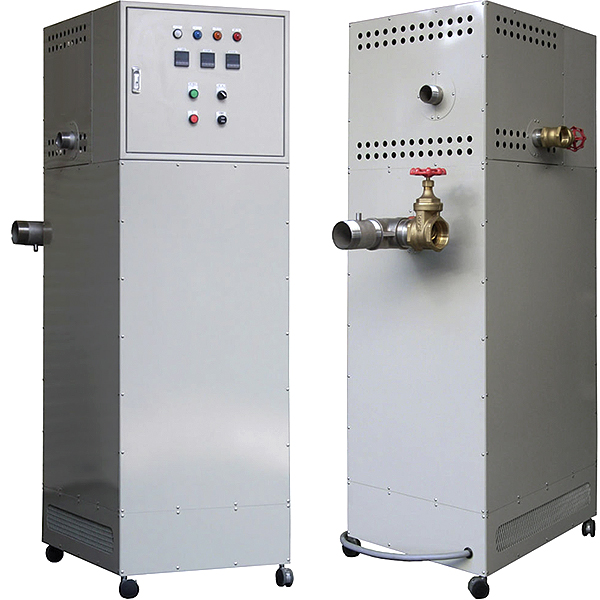 Catalytic combustion method
Exhaust gas treatment includes various methods, such as the following methods: (1)Combustion method, (2)cleaning method, (3)adsorption method, (4)ozone oxidation method, (5)biological deodorization method, (6)plasma deodorization method, and (7)photocatalyst method. Among these methods, (1)the combustion method is easy to operate and stable decomposition of organic substances can be achieved.
In a typical combustion method, the process gas is heated to a high temperature of 750 to 800℃ and maintained for a residence time of 0.5 to 1 second or longer, thereby causing an oxidative decomposition reaction to decompose the process gas. This method is equipped as a direct combustion type.
On the other hand, the catalytic combustion method using a catalyst for combustion can perform the similar oxidative decomposition as direct combustion, only by contacting with the catalyst for about 0.05 sec at a gas temperature of about 300℃ which is less than half that of direct combustion. In this way, the catalytic combustion method, among the combustion types, has a faster decomposition rate than the direct combustion method and reacts at low temperatures, making it possible to downsize the equipment and reduce operating costs.
Catalytic combustion is used in a variety of applications. Some uses platinum catalysis to oxidize and decompose fuel benzene at low temperatures, and the decomposition heat generated in this process is used for heating. Recently, oxidizers using catalysts have been installed in automobile mufflers to purify exhaust gases.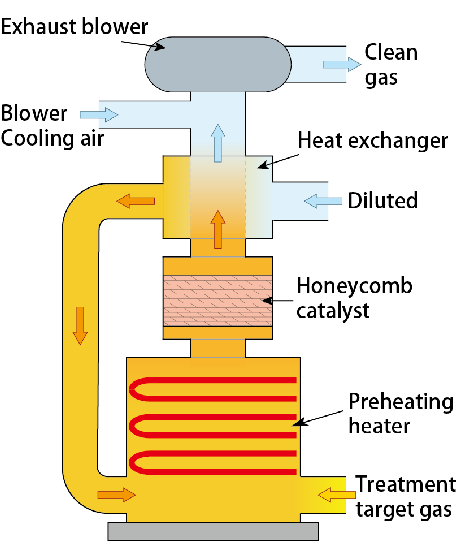 DEOCAT uses this catalytic burning method to decompose hydrocarbon-based odors and noxious gases into water vapor and carbon dioxide at low temperatures.
Oxidation catalyst
Oxidation catalysts are available in various types of metals and various shapes. DEOCAT uses precious metal honeycomb catalysts (platinum and palladium) with standard SV values of 60,000 and pressure losses of about 2/3 that of ceramic honeycombs, which are physically stronger due to stainless steel substrates and have excellent purification performance, according to the following standards.
Features of metal honeycomb catalyst
・It can be oxidized at a low temperature, can withstand high temperatures, and can be treated with high concentrations of gas.
・Large SV value(*) can be taken, making the equipment compact.
・Physically sturdy
・Low pressure loss and low clogging resistance
・Long life and easy maintenance
(*) SV: Space Velocity SV value = Processed gas volume (m³/h) / Catalytic volume (Liter)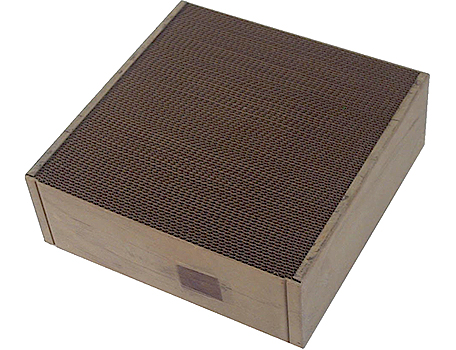 Heating method
For the catalyst to function, the process gas must be heated to the reaction temperature of the catalyst.
The heating method is easy to handle, highly safe, and employs an electric heater type that is ideal for small equipment.
Depending on the concentration of the treated gas, the reaction temperature can be maintained by self-combustion, so the heater can be used economically only when the equipment is started up.
We also use a compact, high heat exchange rate cross-type plate-type heat exchanger to reduce running costs.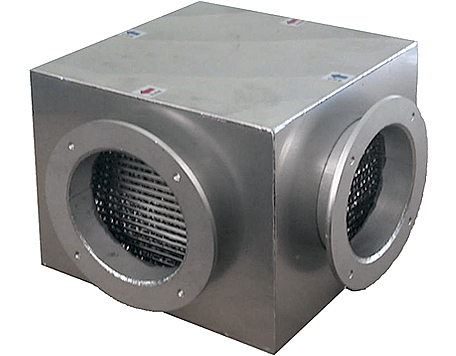 Basic specifications
Items
Unit
TYPEー1
TYPEー2
Throughput
m³/min
1
2
Catalyst
ー
Precious metal honeycomb
Heating method
ー
Electrothermal heater
Electric capacity
kW
7 (AC200)
11 (AC200)
Outline dimension
mm
W600 × D675 × H1900
W700 × D750 × H2030
Application example
・Elimination of odors and VOCs from plastic processing processes
・Removal of odor from sewage sludge
・Removal of carbon monoxide (CO) from semiconductor manufacturing processes
CAUTION
・DEOCAT does not support all VOCs. For details, please contact our sales department.
・If the treated gas contains catalyst poisoning (halogen, etc.) or the concentration of treated gas exceeds 2,000ppm, we recommend "direct combustion type compact exhaust gas treatment equipment".
Direct Combustion Small Exhaust Gas Treatment System
Heat exchanger preheats process gas before raising to 750℃ by way of electrical heater, to oxidize and decompose organic components. Simple in structure, unit reliability handles noxious gases at a high decomposition rate. For high concentrations, efficiency rises. Compared to the catalytic combustion method of the same combustion method, this system is also applicable to the case where the processing gas concentration is higher than 2000ppm, and to the case of catalyst poisoning substances such as organosilicon.
Features
・Simple structure minimizes trouble
・It can also treat VOCs that poison the catalyst
・Resistant to component fluctuations and concentration fluctuations of processed gas, and adaptable to a wide range of gases
・High safety was realized because electric heater was used as a heating source.
・Can reduce running costs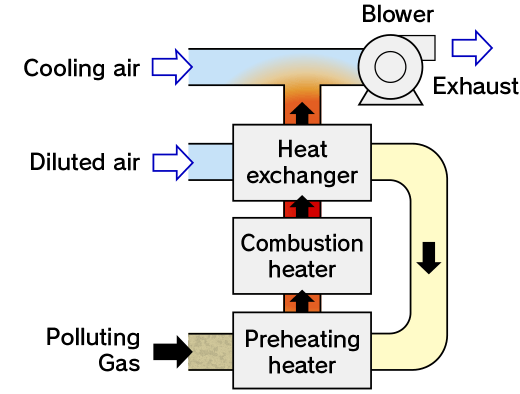 Basic specifications
Items
Unit
1m³/min
2m³/min
Heating method
ー
Electrothermal heater
Heater capacity
kW
23.5
33.3
Exhaust blower
kW
1.5
3.7
Electric capacity
kW
25 (AC200)
37 (AC200)
Machine dimensions
mm
W800 × D1615 × H1720
W1000 × D1635 × H2150
Comparison of direct combustion type and catalytic combustion type (made by TABATA)
| Item | Direct combustion type | Catalytic combustion type |
| --- | --- | --- |
| Low concentration gas (1500ppm or less) | △ | ◯ |
| High concentration gas (2500ppm or more) | ◯ | △ |
| Corrosive gas | △ | ✕ |
| Gas containing poisoning substance | ◯ | ✕ |
| Large fluctuation of concentration/component | ◯ | △ |
| Compactness | △ | ◯ |
| Running cost | △ | ◯ |